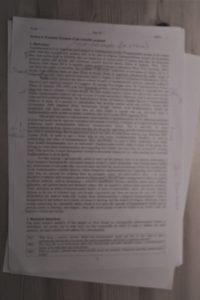 Are you considering a grant application, or already facing a deadline for e.g. the Dutch NWO Rubicon grant or Teachers Ph.D. scholarship? Or perhaps an ERC Proof of Concept or Consolidator? In that case, have you considered hiring a scientific editor to give your proposal an extra edge?
Of course, as an academic, you know how to write scientific papers. But a grant proposal is a different genre, you don't just present your results and ideas to your peers, you are trying to sell your plans to a review committee that might include scientists who are not fully familiar with your topic.
Great idea
That's where a scientific editor, like me, comes in. To critically review your text for 'selling power' and clarity, to check the flow and the explanation of your new project. To see if all the important information is standing out, and your ideas are presented crisp and clear. And no, this is not a marketing exercise, your proposal is about the scientific progress you are going to make. But my seven years of experience in this field have shown that you may need some help in getting your great idea across.
Re-write
The scientific editing I offer is not about dotting i's and crossing t's. It is about the structure of your proposal, the use of (too much) jargon, the consistency of your argument, and the logical flow. I don't usually do a big re-write of your text, but try to point out where changes could be made. It is my belief that your grant proposal is best written by you – with some help! Of course, assistance in cutting a proposal that has gone over the word limit down can be provided.
Free intake
Over the years, I edited grant proposals for mainly the Dutch funding organization NWO and the ERC. Applicants were working at universities in The Netherlands, Germany, Belgium, and the US. The topics covered many academic disciplines, from Law to Astronomy to Religious studies and everything in between.
If you consider getting editorial assistance, do contact me to discuss the options. The intake procedure is free of charge! And of course, your proposal will be treated with full confidentiality (That's why the picture accompanying this blog is out of focus!)
Please follow and like us: